Our litters
Litter B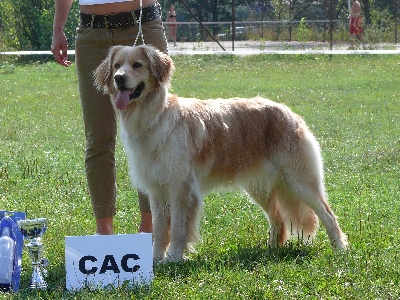 Mother:         Royal Resie Gasko Prim
Reg. nr.:        CMKU/HW/3400/04
Date of born: 26.1.2004
Colour:          blond
Height:          59 cm
DKK:              0/0
Dog exams:   ZOP, ZPU-1, ZPU-2, ZZO, ZVV1, ZVV2, ZVV3, ZPS1, ZPO1, FPr1, FPr2, FPr3, BH, IPO-V, IPO1
Resie is in these days only one bitch in czech HW club with exams ZVV3 and ZPO1!
Dog shows:    CR Champion, SK Champion, Österreichischer Champion, 20 x CAC, 6 x r. CAC, CACIB, 6 x r. CACIB, Schönste Hündin
Pedigree:     here
Fotogalerie:  here
Videos:         here
Something about Resie:
Resinka has been working led dog of medium temperament, very addicted dog, who can even crawl under a car or jump out a window in order to be with us. She loves traveling, walks, preferably in the woods, where she loves run about roes and squirrels. Among her the most typical nature there are carry of shoes, which she carries while greeting, then chewing of everything and barking on swimming pool cover. She adopted our little son Tobias fantastically and she's still looking after him. As soon as Tobias is crying, she instantly runs and lick him. We are interested in sport cynology and she loves protecting the most. She's pretty skilled, clever, talented and nothing is problem for her. She hardly ever resign something. It's very well cooperating with her, but of course, everyone has it's own days. She is great companion, friend, simply the dog I've always wanted.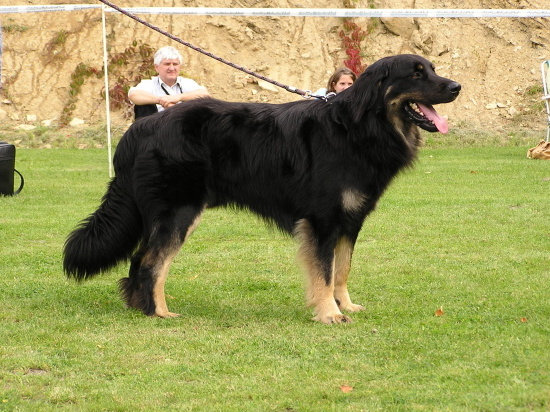 Father:            Nasthus Animagus
Reg. nr:         CMKU/HW/3649-04/04/06
Date of born: 8.7.2004
Colour:          black and tan
Height:          66 cm
DKK:              0/0
Dog shows:    Champion of Poland, 3 x CWC, 2 x r. CAC, CACIB, BOB
Dog exams:   ZOP, ZPU-1, ZZO, ZPS1, FPr1, FPr2, FPr3, BH, FH1
Pedigree: hier
Something about Nasty...
Nasty comes from Polish kennel of Mrs. Monica Rogalski. He has moderate temperament and is very well controllable. Dutiny his education and training, I never had to use tougher means. He is brought up only by usány voice aids.During his upbringing we never had to deal with issues of dominance and agression towards members of the family ("home pack"). He has never had a problem when we reach into his bowl with chow, remove anything from his mouth, even by the youngest member of the "pack" – our daughter, who was 5 years old at the time of Nasty's arrival. He has incredible patience especially with her and he can infinitely long time perform her commands: sit! down! and he even looks like it makes him pleasure :)
He is excellent guard of his territory and as a right Hovawart he reports all suspicious situations which are gong on behind the fence. At the same time he loves cuddling. If we greet and welcome our visitors, then he lick them from head to toe and if they show him thein affection, the will never rid him off :) !
He has been working led dog and even though we trained all three disciplines of comprehensive training exercises, we manager to capitalize promařily on scent work. Except the simpler exams FPr1-3 and ZPS1 Nasty passed also FH1 exam. We stop training of tracking at this level, mainly because of limited available time. As for obedience training – he is characterized with exceptional willingness (he would even make a tumble to make me happy)! I think that obedience by NZŘ "fits" him more then IPO (but maybe it's due to my lack of experience in training by IPO rules, perhaps it because Hovawart is, beside other working breeds, after all slower).
 Nasty has a pedigree with a very interesting working (SCHH3-VPG3, IPO3) and dog shows results (Ch., ICh.) of his ancestors. I appreciate personally the work line A-v.Deichselbachtal, which gives it's offsprings extraordinary working talent.